BBO Annual General Meeting
March 4, 2013 @ the University of Alberta
Report from our Treasurer, nominations for new board members, and voting in the new executive. Come see how the BBO works.
Time: 7:00 - 7:30 pm
Location: Weldwood Room, 812 General Services Building, University of Alberta
Cost: Free
Contact: If you are interested in becoming involved with BBO contact Lisa Priestley at lisa@beaverhillbirds.com or 780-918-4804
---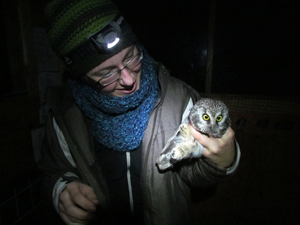 Beaverhill Bird Observatory Completes Another Season
On November 16, the Beaverhill Bird Observatory completed operations for another season.
Meaghan Bouchard finished out the cold snowy fall season with 159 Saw-whet Owls a record 5 Boreal Owls. The final report will be completed shortly and will be posted on our website.
Thanks again to all the volunteers that came out to help with the fall banding. In particular, to Sara Pearce Meijerink who spent over a month at the lab assisting with our operations. Good luck with your trip to Madagascar to study lemurs!
Thanks to all the groups of people that came out through the fall to see our banding operations.
Steaks and Saw-whets was another success and we thank all the participants.
Finally, a big thanks to all the volunteers that helped with this year's fundraising casino in early November. We appreciate your support. We look forward to a new season in May 2013.
Please check back to our website to see our reports and our updates for the next season.