Steaks & Saw-whets 2014 Event
Lisa Priestley, Chair Beavehill Bird Observatory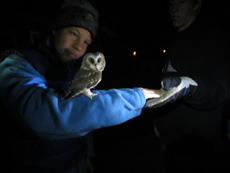 Okay, so now you are asking why the heck you would eat a Saw-whet and what exactly is a Saw-whet.
This owl is probably the most common owl in Alberta, yet few people get to see it because it hides during the day in spruce trees and other thick vegetation and is almost strictly nocturnal.
These small owls are found in urban and rural areas. Each fall many Northern Saw-whet Owls move through Alberta, like many other birds on migration.
However, some Saw-whet Owls will overwinter and others are more nomadic following food sources of small microtines.
On October 3 and 4, 2014, the Beaverhill Bird Observatory hosted our annual public event Steaks and Saw-whets, to celebrate this movement. The public was invited out to see how the bird observatory monitors the owls.