COVID 19 & The Environment
Tuesday, June 9, 2020
Covid-19 has disrupted life around the world with many countries imposing some form of lockdown to contain the spread of virus. The lockdowns have halted economic activities resulting in significant reductions in greenhouse gas emissions. In China, emissions fell by 25% at the beginning of this year due to lockdowns, while New York recorded a 5-10% decline in CO2 emissions.Scientists are predicting a 5% reduction in global carbon emissions in 2020.
Air pollution can have a huge impact on human health with increasing the risk of hypertension, diabetes, and asthma etc. Air pollution may also increase the severity of this pandemic. A 2003 study on SARS found that people living in areas with poor air quality were more likely to die from the virus and some early studies on COVID-19 are showing similar results. In one study, researchers found that 78% of the total fatalities in Europe due to COVID-19 are located in the five most-polluted regions. These five regions experience the highest concentration of nitrogen dioxide in Europe, which causes hypertension, heart disease, and diabetes.

Although the reduction in greenhouse gases caused by COVID-19 is marginal, the decline has brought
monumental changes in air pollution levels in many parts of the world. Take Delhi (capital of India) for example. Delhi consistently experiences high concentration of fine particulate matter (PM 2.5), which originates from burning fossil fuels, wood, and other chemicals in industries. PM 2.5 is regarded as the most hazardous pollutant for human health because it can penetrate deep into our lungs causing asthma and other lung disorders. On its worst day in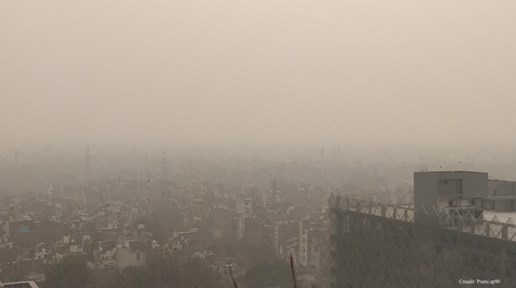 November 2019, Delhi's air quality was reported above 900 on the PM 2.5 air quality index, which is extremely unhealthy. For comparison, the upper limit of PM 2.5 for good air quality is 12, and the PM 2.5 air quality index used by the Environmental Protection Agency in the United States maxes out at 500. Therefore, the concentration of PM 2.5 is a huge concern for the 16.8 million people living in Delhi. COVID-19 however, has dramatically changed Delhi's air quality due to the lockdown. The city has experienced a massive improvement in its air quality with a 60% drop in PM 2.5 particulates, meaning the air was cleaner and easier to breath.
While it has dramatically lowered the air pollution levels in many countries, the changes may not last past the COVID-19 lockdowns if the world does not address the issue of climate change directly. This highlights what scientists have been advocating for many years, we need a collective global effort to solve the climate change.
By stopping climate change, we can prevent an increase in extreme events like droughts, floods, and protect our global socio-political order. According to a World Bank report, growing problems environmental problems like water scarcity, sea level rise, storm surges, and crop failures, caused by climate change, could make as many as 140 million people refugees within their countries by 2050 in the developing world.
WHAT CAN WE DO?
Water delivered to your house by your local municipality requires energy for cleaning, to deliver it to your house, and to clean the wastewater prior to discharge. You can reduce your carbon footprint and conserve fresh water by simply using less water; for example: install water efficient shower head, take showers instead of baths, install water efficient toilets, and don't run water continuously while brushing your teeth. Individual choices can make a great difference to our impact on the environment.
Other ideas on how to reduce your carbon footprint can be found here.
Picture Credit:
Scientific Animations, retrieved from https://commons.wikimedia.org/wiki/File:3D_medical_animation_coronavirus_structure.jpg, accessed on May 24, 2020
Prami.ap90, retrieved from https://commons.wikimedia.org/wiki/File:Delhi_air_pollution_2019.jpg accessed on June 3rd, 2020
Additional Resources:
Cui, Yan, Zuo-Feng Zhang, John Froines, Jinkou Zhao, Hua Wang, Shun-Zhang Yu, and Roger Detels. "Air pollution and case fatality of SARS in the People's Republic of China: an ecologic study." Environmental Health 2, no. 1 (2003): 15.
Ogen, Yaron. "Assessing nitrogen dioxide (NO2) levels as a contributing factor to the coronavirus (COVID-19) fatality rate." Science of The Total Environment (2020): 138605.
COVID-19 Air Quality Report by IQAirhttps://www2.iqair.com/sites/default/files/documents/REPORT-COVID-19-Impact-on-Air-Quality-in-10-Major-Cities_V6.pdf?_ga=2.24585786.1022630900.1587571913-788869784.1587571913
https://www.france24.com/en/20200423-air-pollution-and-covid-19-an-explosive-combination-for-our-health-1
https://www.theguardian.com/environment/2020/apr/20/air-pollution-may-be-key-contributor-to-covid-19-deaths-study
https://www.nytimes.com/interactive/2019/12/02/climate/air-pollution-compare-ar-ul.html
https://www3.epa.gov/airnow/aqi_brochure_02_14.pdf
https://coronavirus.jhu.edu/map.html
https://mpra.ub.uni-muenchen.de/98858/1/MPRA_paper_98858.pdf
https://www.newyorker.com/podcast/the-new-yorker-radio-hour/the-coronavirus-and-climate-change-the-great-crises-of-our-time
https://www.scientificamerican.com/article/covid-19-could-help-solve-climate-riddles1/
https://www.theguardian.com/environment/2020/apr/12/global-carbon-emisions-could-fall-by-record-25bn-tonnes-in-2020
https://www.bbc.com/future/article/20200326-covid-19-the-impact-of-coronavirus-on-the-environment
https://theconversation.com/how-changes-brought-on-by-coronavirus-could-help-tackle-climate-change-133509
https://climateactiontracker.org/global/temperatures/
https://www.weforum.org/agenda/2020/04/climate-change-coronavirus-linked/
https://epha.org/coronavirus-threat-greater-for-polluted-cities/
http://beaverhillbirds.com/media/1828/introduction-to-cc-blog-w-glh-edits.pdf
https://www.reuters.com/article/us-health-coronavirus-emissions/coronavirus-could-trigger-biggest-fall-in-carbon-emissions-since-world-war-two-idUSKBN21L0HL
https://www.bbc.com/news/science-environment-51944780
https://www.wri.org/blog/2019/09/what-does-net-zero-emissions-mean-6-common-questions-answered
https://www.esa.int/Applications/Observing_the_Earth/Copernicus/Sentinel-5P/Air_pollution_remains_low_as_Europeans_stay_at_home
https://www.worldbank.org/en/news/press-release/2018/03/19/climate-change-could-force-over-140-million-to-migrate-within-countries-by-2050-world-bank-report
https://www.epcor.com/learn/efficiency-conservation/Pages/default.aspx