Saw-whet & Boreal Owl Monitoring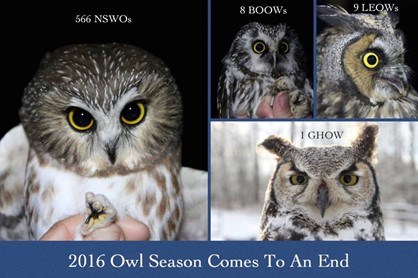 Our owl monitoring program has been operating since 1997. The primary objectives are to document the relative abundance and migration timing of Northern Saw-whet and Boreal Owls moving through the Beaverhill Natural Area during the fall.
This program also allows us to train volunteers, promote visitor engagement, and educate the public about the importance of avian research and conservation
Saw-whet owl monitoring begins on September 1st, Boreal owl monitoring starts on October 20th, and both end on November 11 or when snow forces us to close the lab for the season
Mist nets are opened a half-hour after sunset and kept open for 6 hours
 Book your visit for owl banding today! Click HERE to register.